Last week's poll shows that Sony nailed it – its Mark II phones are just what people want. While Xperias are popular in online discussions, when you reach the store, wallet in hand, they are suddenly losing some of their appeal.
The Sony Xperia 1 II improves the triple camera with larger main and ultrawide sensors, longer telephoto lens (3x zoom) and 4K/60fps support. It brings back the 3.5mm headphone jack and increases the battery capacity. All these changes proved a hit with voters.
The maybe there, maybe not 90Hz mode for the screen didn't bother many people. In fact, very few people voted that the Xperia 1 II is missing features.
The big hurdle that Sony needs to overcome is price – right now, the balance is tipped slightly in favor of the flagship, but the "too expensive" option is a very close second. Another, smaller issue is the wait, Sony's new flagships will only come out some time in Q2.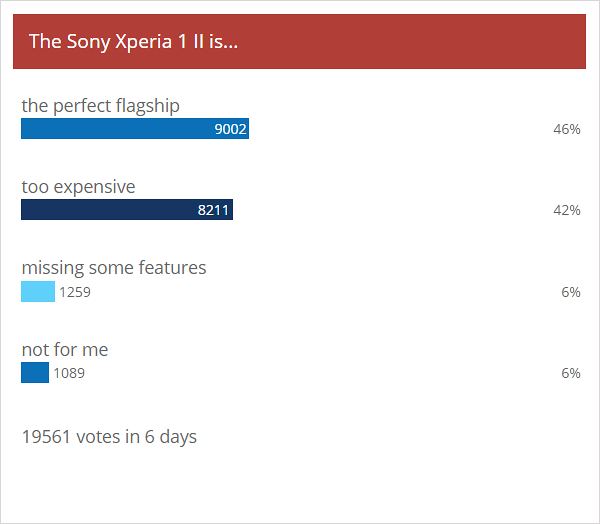 The Sony Xperia 10 II also has the makings of a great mid-ranger. Sony's improvements over last year's model (OLED screen, telephoto + ultra wide cameras, larger battery and water resistance) hit the right spot. Even the lack of a larger Plus model wasn't an issue.
The issue once again was price. Many wouldn't complain about the Snapdragon 665 chipset or that you can't get more than 4GB of RAM if the price wasn't what it is. Of course, if the review of the Xperia 10 II shows it's a solid performer, those complaints might go away. But it will be a while before we review this phone as it too is scheduled for a vague "Q2" launch that may be a couple of months away.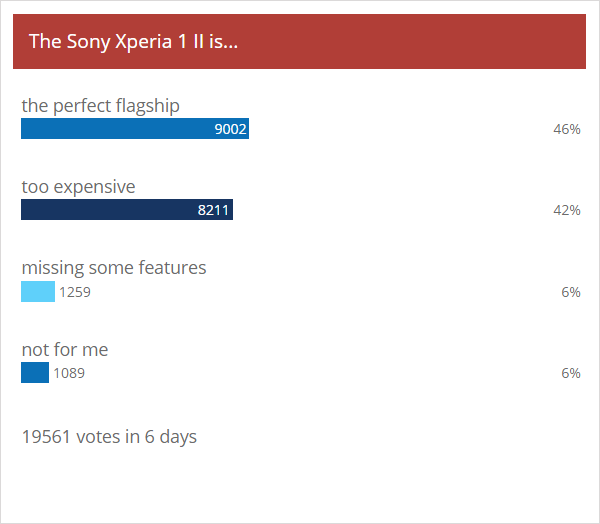 For what it's worth, the Xperia 1 launched in the US at $950 in July and was down $200 in December. The Xperia 10 was just $170 some months after launch, so if you're willing to wait, you can probably get a nice discount on the Mark II phones.