Voters in last week's poll did not go easy on the new OnePlus duo – the two phones were left in the shadow of the 7T generation.

However, many in the comments pointed that the OnePlus 8 and 8 Pro are actually the successors of the 7 and 7 Pro rather than the T-series. And that does make some amount of sense and puts the phones in a better light, but is the OnePlus fanbase really the type to upgrade every year?
There certainly is a group of people that do get a new OnePlus every year, but it sounds like they will be waiting for the OnePlus 8T series. They should certainly wait at least until the reviews come out, which is what many voters say they will do.
Only 19% of the votes were in favor of the OnePlus 8 Pro while 30% of voters are on the fence. Most people seem to be happy with the 7T Pro, which is quite capable and cheaper to boot. Another thing to address is size – the 8 Pro is taller but narrower and lighter than the 7T Pro. Anyway, its size seems to have bothered only 12% of voters.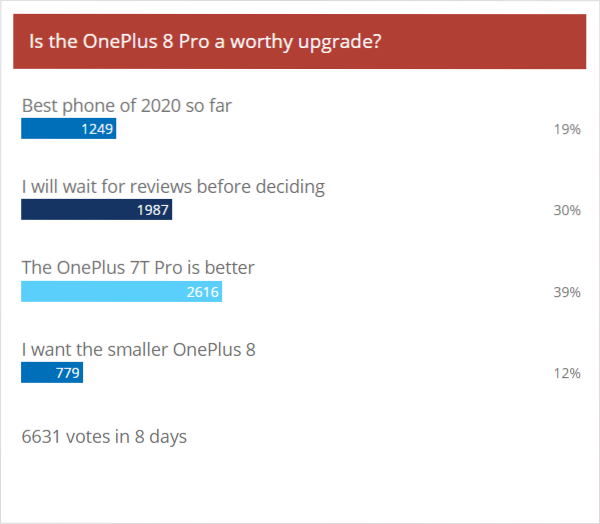 The OnePlus 8 took a beating – half of voters say they prefer the 7T, it turns out that S865 chipset with 5G connectivity and the slightly larger battery are not worth the loss of the telephoto camera and the far higher price. 1 in 5 people say they will wait for the 8T (the OnePlus 7 didn't get much love last year either, the 7T came out a few months later and was much better.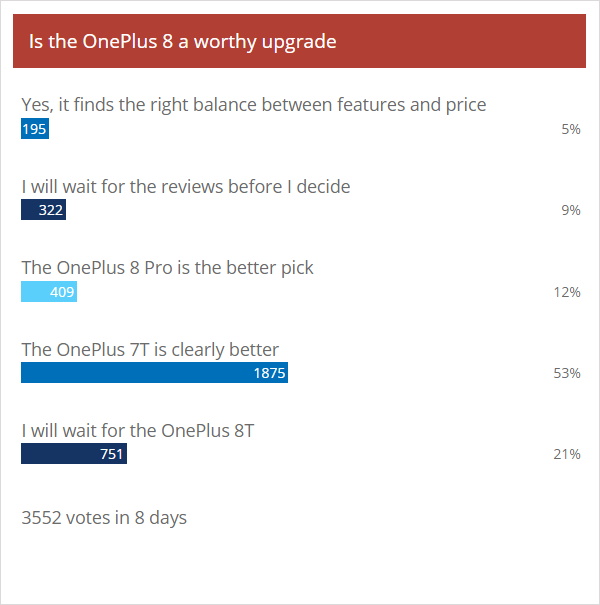 The OnePlus 8 Pro may still turn things around – it all depends on getting good reviews. If it demonstrates that it's clearly better than the 7T Pro, there are many willing to give it a chance.