After its debut in Germany earlier this month, the Samsung Galaxy Watch3 Titan is preparing launch on the other side of the Atlantic – it will be available in the US starting on October 2. Then you will be able to find it on Samsung.com as well as major retailers.
The price is set at $600. Note that the titanium version is available in a single configuration – Bluetooth only (so no LTE), 45 mm size and Mystic Black color. For comparison, the vanilla Watch3 with those specs sells for $430.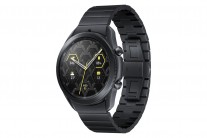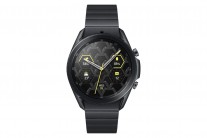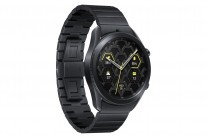 The Samsung Galaxy Watch3 Titan is coming to the US on October 2
The Titan is also launching in its home country of South Korea later this week – starting on the 18th (this Friday), locals will be able to pick one up for KRW 770,000. Look for the titanium watch on Samsung.com and major online retailers as well as the Samsung Digital Plaza stores.
There's also a special edition available in Korea, the Galaxy Watch3 Titanium PXG Edition, which adds PXG branding to the watch and charger. The retail package also includes two PXG straps (one leather, one sport strap) and two types of PXG golf equipment. Samsung will produce only 1,000 units of this version, each of them costing KRW 990,000. They can be found on Samsung.com and the PXG online store.
The titanium metal makes the watch lighter – 43 grams, compared to 53.8 g for the stainless steel model (without the strap). Note that only the body of the watch is actually made of titanium, the strap is stainless steel.
Meanwhile, all versions of the Galaxy Watch3 are getting a firmware update. It improves the accuracy of SpO2 and VO2 max readings, which were enabled in a previous update. Additionally, the heart rate tracking, stress measurement and sleep score have been improved as well (there were complaints about Samsung Health storing broken sleep data, those should be resolved).
The battery life should be longer to boot. This update is currently available in Vietnam and should start expanding to other countries soon.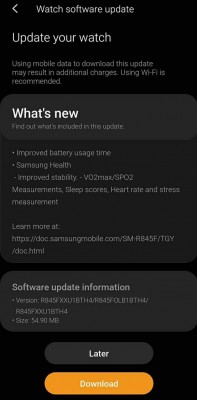 Update for all Samsung Galaxy Watch3 models improves sleep tracking, SpO2 and VO2 max readings
Read our review of the Samsung Galaxy Watch3 for more details on the design and features. The Titan has the same characteristics as the 45 mm model, save for the body material. The FDA approved the ECG feature for US last month, this feature is also available in Korea.
PS. the Titan will be available in Germany this Friday, the Galaxy Fit2 smart band is coming on October 2. There's no sign of the Fit2 in the US, however.