After months of speculation that the Galaxy Buds+ will be Samsung's first entry into the world of truly wireless earbuds with active noise cancellation, it became clear that Samsung is working on a completely different product to fill that spot.
Meet the Galaxy Buds Live – truly wireless earbuds with an innovative design and ANC.
Unboxing, design
They come in a simple retail box with a single USB-A to USB-C charging cable, silicone wingtips and the case with the buds themselves.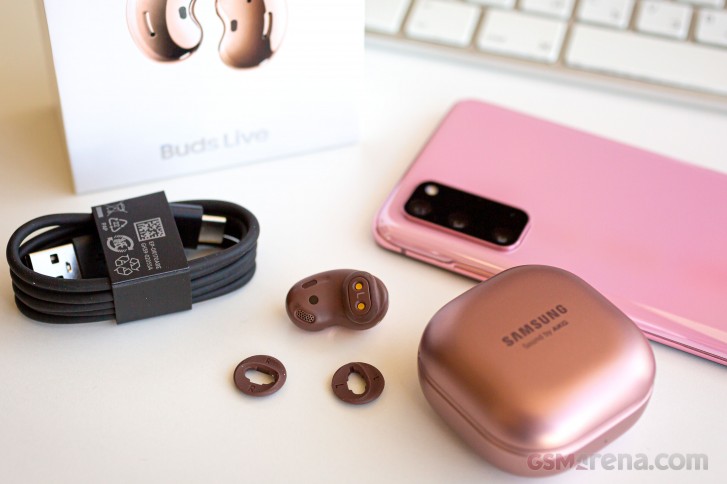 The charging case itself is very small – smaller even than the AirPods 2 case. It still holds 500mAh worth of charge in addition to the 60mAh in the Buds Live and it can be charged both through USB-C and wirelessly. The two buds fit magnetically inside and won't fall off accidentally.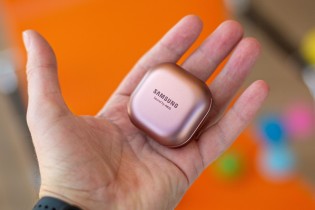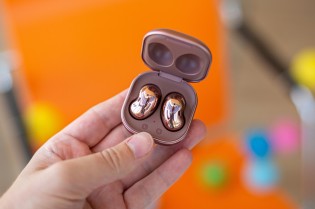 The Galaxy Buds Air come in a tiny case
Samsung completely rethought the earbud concept with the Galaxy Buds Live. Some designs bulge outward, others stretch downward, but the Galaxy Buds Live seem to hang on the ear itself. The radical new design required a total horizontal rearrangement of the components. On the inside we see the 12mm speaker and bass duct on the bottom, an IR sensor and the twin pins for charging.
On the outside there are three microphones that Samsung uses alongside what it calls a voice pickup unit to enhance voices during calls. More on call quality a bit later on.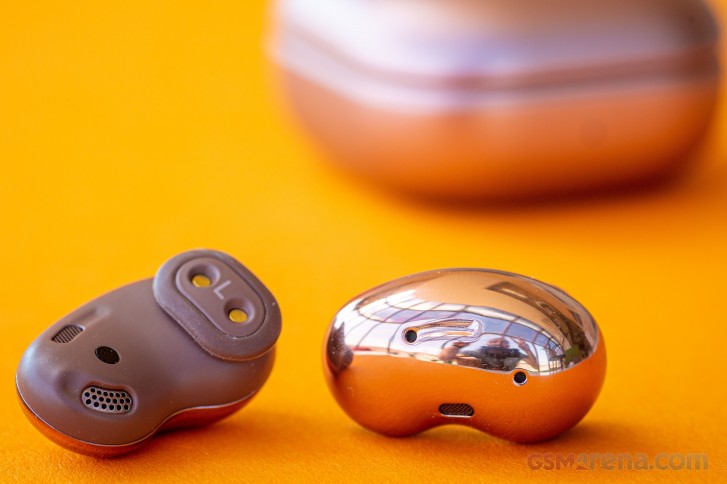 The Galaxy Buds Live come in three colors – Mystic White, Mystic Black and Mystic Bronze, which is the one we have here. This color emphasizes how much the buds look like beans.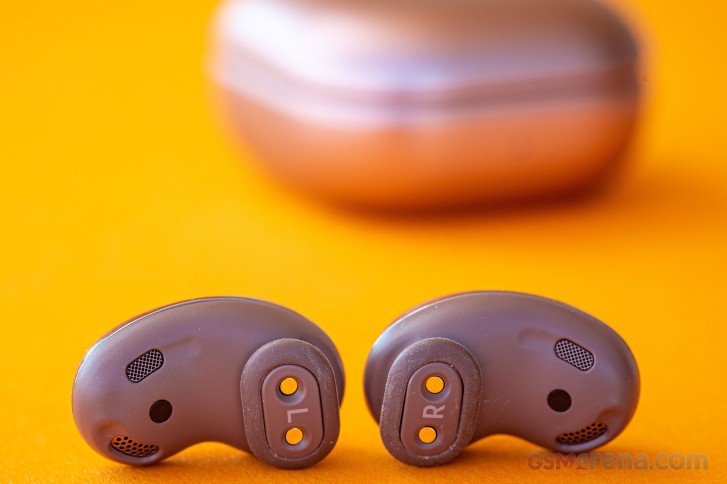 They are smaller than their respective rivals on the market. Their drivers are also smaller, especially compared to Apple's AirPods second-gen and Pros.
Samsung chose an open ear design for the Galaxy Buds Live, just like Apple's non-Pro AirPods. Some people prefer this design mostly because of its more comfortable fit – open ear designed buds don't go as deep into your ear canals and thus have less of a vacuum feel.
That's in contrast to the Galaxy Buds/Buds+ and AirPods Pro, which use in ear design. Generally in ear buds offer much better noise isolation and deliver bass better. Ultimately it's a personal preference.
We tried the Galaxy Buds Live between a few of the people here at HQ and got mixed experience. Some people found the Galaxy Buds Live tricky to fit properly and feeling loose. Others found them a perfect fit. In all cases however the provided wingtips made a big difference for in-ear security.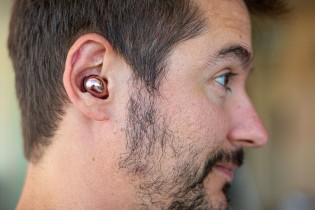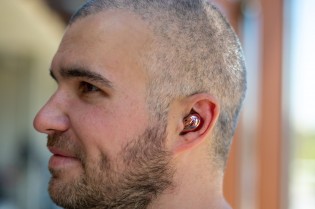 Different ears, different fit
Features
The Samsung Galaxy Buds Live can connect to basically any Bluetooth device – Android, iOS and PCs all work fine. Naturally Samsung has invested some effort to offer even more polished experience on Galaxy phones.
You can get Samsung's Galaxy Buds app on both major operating systems but only Galaxy phones will get the quick connect prompt when you open the Galaxy Buds Live case.
The infrared sensors on the inside of the Galaxy Buds Live let them detect if the buds are in your ears and will pause playback if you take them out. This works on any Android phone but doesn't work on iOS.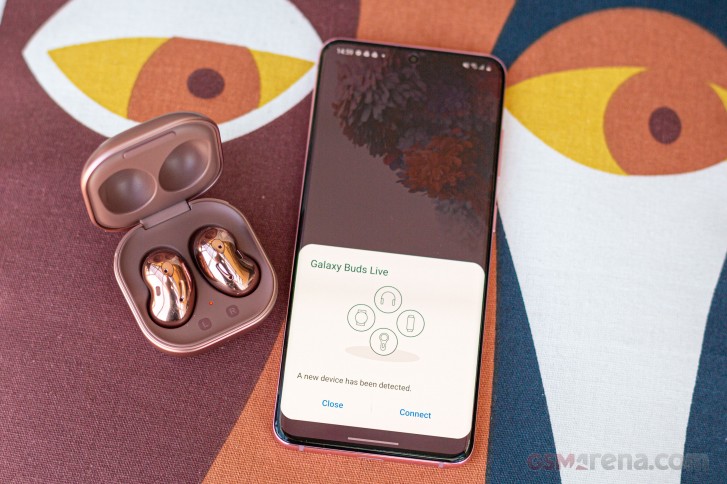 The Galaxy Wearable app is integral to the buds use. From it you can setup the sound characteristics with six presets – Soft, Dynamic, Bass boost, Clear, Treble boost and Normal – enable and disable the active noise cancellation, issue software updates and choose what tapping on the Galaxy Buds Live does.
A single tap on each bud will pause or resume playback. A double tap will prompt the next song, triple tap the previous one. You can customize what tap and hold does on each bud – it can bring up Bixby, Spotify, increase and decrease volume or activate or disable the noise cancellation.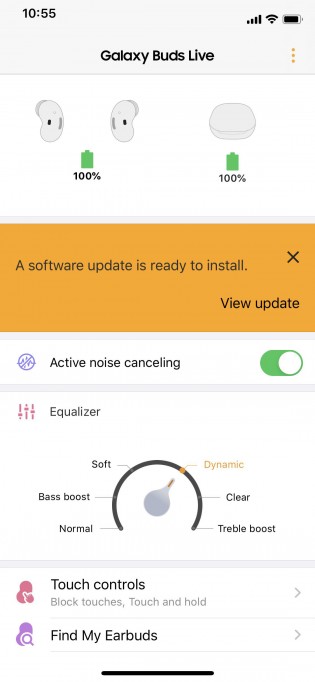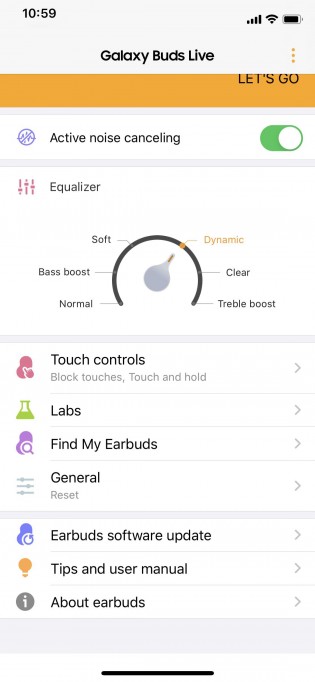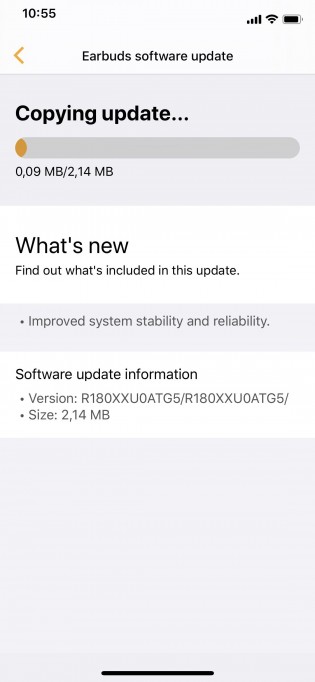 The Samsung Galaxy Buds app
You can reset the buds from the app and there's a neat Find My Earbuds feature that will make them ring.
Sound quality, active noise cancellation, battery life, conclusion
So how to the Samsung Galaxy Buds Live sound? In a word – bassy. We were surprised of the level of bass from an open ear earbud. We found the Galaxy Buds Live sound best in their Dynamic or Normal setting, which leverages the best balance of volume and bass. Mids are very pronounced, which combined with the deep bass results in a powerful and rich sound.
The Galaxy Buds Live get quite loud, as loud as Apple's AirPods Pro, but not as loud as the AirPods 2. They're also inferior to the Galaxy Buds+, which are both louder and have better bass, thanks to their in ear design.
So, stellar sound quality, how about that active noise cancellation? We're less impressed with that. Just like with the Huawei Freebuds 3 the active noise cancellation is let down by the open ear nature of the Galaxy Buds Live. Open ear buds just don't isolate as much ambient noise on their own so as to give the active noise cancellation a solid foundation.
ANC managed to tone down some of the buzz in our office, but not to an extent where it makes a huge difference. When you use ANC in collaboration with loud music, you can successfully eliminate most distractions, but on its own it can't drown out most of the noise around you. Apple's AirPods Pro are much better in this regard – We would love to see ANC on Samsung's other earbud design – the Galaxy Buds+ with ANC might be a winner.
The Galaxy Buds Live offer great battery endurance. We were able to squeeze 5 hours 15 min of listening at 100% volume – very close to Samsung's promised 5.5 hours. You can extend that by thirty minutes by disabling Bixby Voice Wake-up and a further two hours if you turn off ANC.
After they were completely depleted, we got 50% charge back in the earbuds from about 25 min in the cradle. The case can charge the buds twice and a half according to official numbers, which means you'll have a hard time depleting its charge ever. We charged the case itself in about 40 minutes.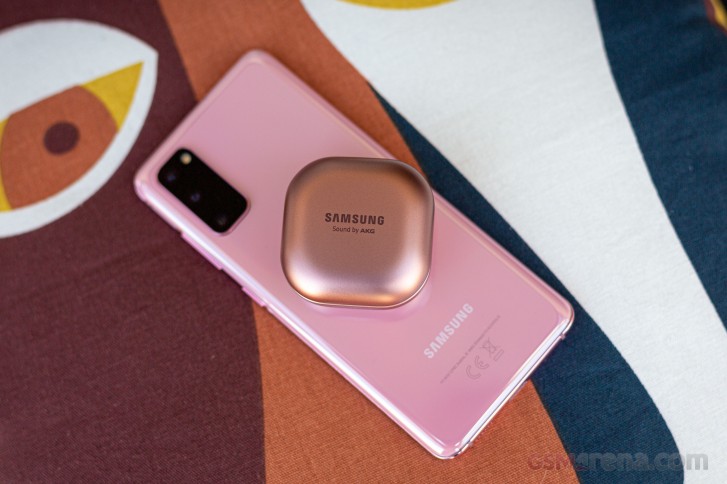 The Samsung Galaxy Buds Live cost €189/£179 and will be bundled with early Galaxy Note20 pre-orders in some markets. In comparison the Samsung Galaxy Buds+ normally retail for €160 but can be had for €110 right now, while the Apple AirPods 2 generation are €130 at the moment (€175 normally), and the AirPods Pro are €210 (normally €270). That puts the Galaxy Buds Live at a slight disadvantage, especially compared to the Galaxy Buds+, which sound better and isolate outside noise well despite their lack of ANC.
However if you like the open ear fit you should definately shortlist these. The Samsung Galaxy Buds Live are feature-packed, come in an unobtrusive case with both fast wired charging and wireless charging, they sound great with good mids and solid bass and work very well with all Android phones.