Introduction
On Friday, Oppo announced that it will release its Watch to global markets. The Oppo Watch (which even sounds like 'Apple Watch' in addition to being very close to it designwise) is the Chinese phone maker's first Wear OS smartwatch. The Chinese variant runs a modified version of Android 8.1, but the global variant has a couple of key differences.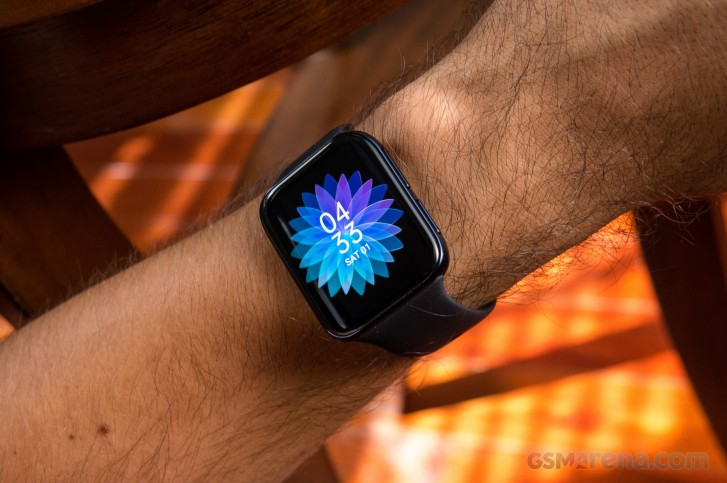 The first is the inclusion of the Snapdragon 3100 Wear platform, which is almost two years old at this point, but is the fastest chipset available for wearables from Qualcomm. In contrast, the Chinese version of the Watch runs the Snapdragon 2500 Wear. Both versions also have a secondary Ambiq Micro Apollo 3 chipset which powers its second low-power OS.
Oppo Watch (global) specs:
Body: 46mm: 6000-series aluminum allow, plastic and ceramic backplate; 41mm: same aluminum body, plastic-only backplate

Display: 46mm/41mm: 1.91/1.6-inch rectangular 3D flexible AMOLED screen; 72.76/65.22% screen-to-body ratio; 402×476/320×360 px; 326/301 ppi

Chipset: Snapdragon Wear 3100 Platform + Ambig Micro Apollo 3

Memory: 1GB RAM + 8GB storage

Battery: 430mAh or 300mAh

Software: Wear OS

Connectivity: Bluetooth v4.2 + BLE, NFC, Wi-Fi b/g/n; LTE available on 46mm model



Even the Watch's packaging is familiar for anyone who's ever unboxed an Apple Watch. The Watch comes with a magnetic-pin charger, which can recharge the 46mm variant up to over 40% in 15 minutes and a 75-minute charge brings the Watch to a full battery. There's also an extra watch strap loop.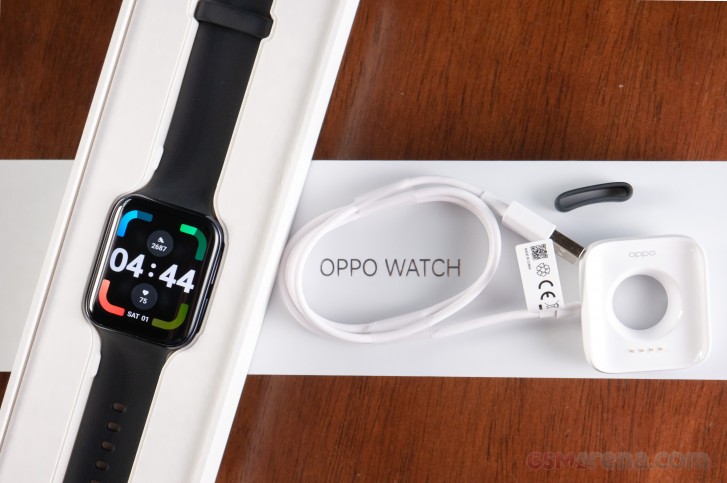 Design and display
The display on this 46mm model is larger than the biggest Apple Watch display on the Series 5. That, and the fact that it offers a square display is a significant change from the primarily round smartwatches we've seen on most Wear OS smartwatches of the last few years.
The display gently curves over the edges, which benefits the Wear OS's swipe gestures. We like how the frame and back panel look like a miniaturized glass sandwich smartphone. Even the back panel of the watchcase has tapered edges.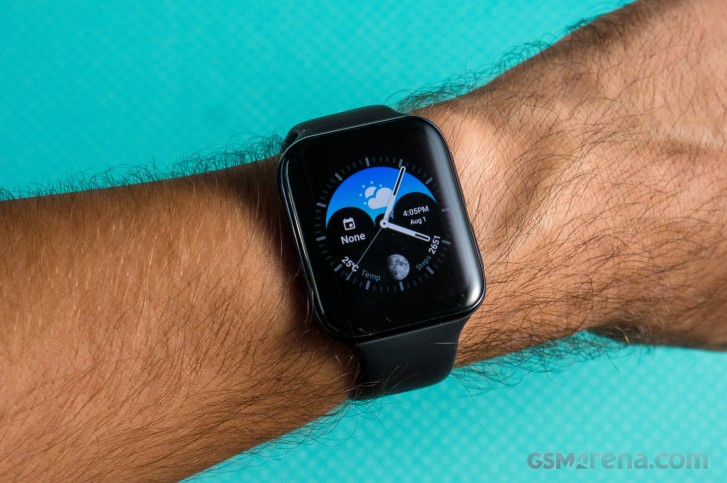 The frame is made of 6000-series aluminum, while the back side is made of plastic and the dome where the heart-rate monitor sits is made of ceramic on the 46mm model, the 41mm version is all-plastic on the back.
There are two buttons on the right side of the case – one is the home/app drawer button, and the lower button (the one with the green accent) is a programmable shortcut key. It also doubles as the power menu when you press-hold it. A speaker port is found on the left side of the watchcase, also in an identical fashion as the Apple Watch. The mic is back on the right side between both physical keys.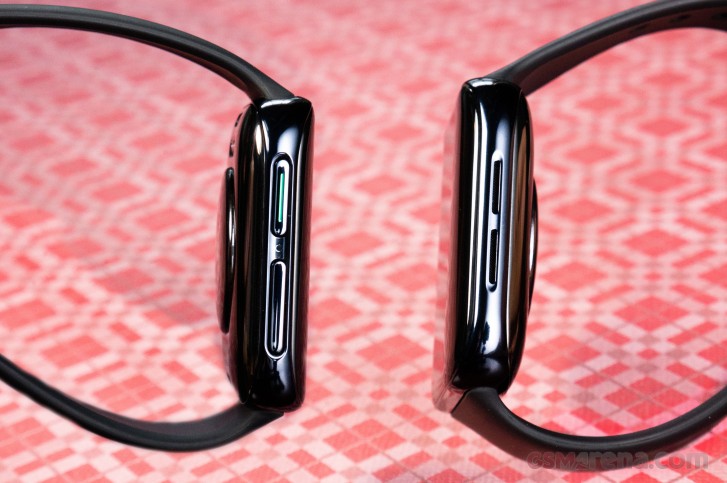 The strap is made of a material that Oppo calls "Fluororubber". Honestly it's surface feels like a silicone band, but one that has a more rigid construction. The band feels comfortable and soft on my wrist. This watch uses proprietary watch bands, so choice will be far more limited compared to other Wear OS watches.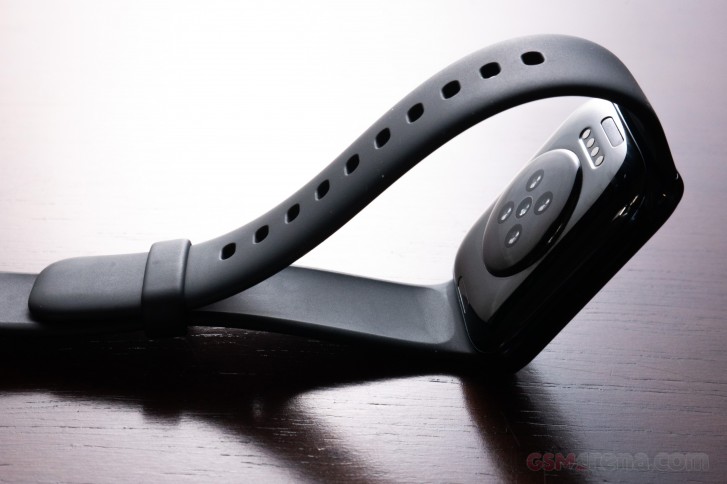 The AMOLED screen looks beautiful on the Oppo Watch. This is a 1.91-inch 3D flexible AMOLED screen with 72.8% screen-to-body ratio, and a pixel density of 326ppi.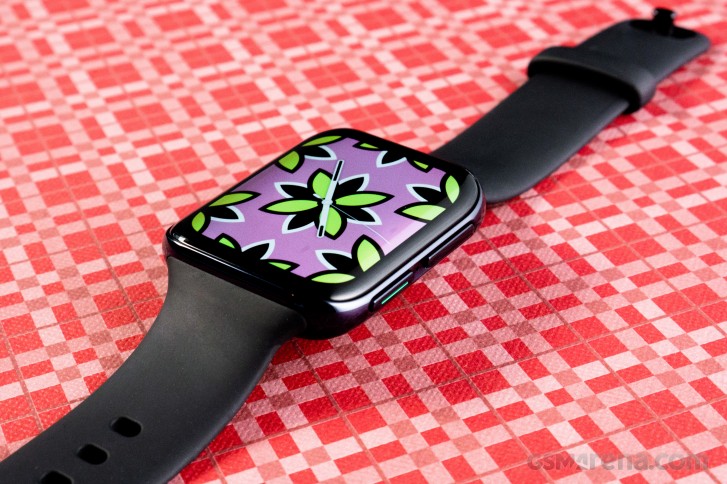 Software
Boy, is it weird to see Android Wear in something that looks like an Apple Watch. I wasn't sure how I'd feel about it at first, but I am kind of warming up to it.
Wear OS is somewhat unrecognizable. It still behaves the same, but the customized app launcher and smooth performance really add polish to the experience. It has a look and feel of Color OS, with vibrant app icons and bubbly animations in the app drawer.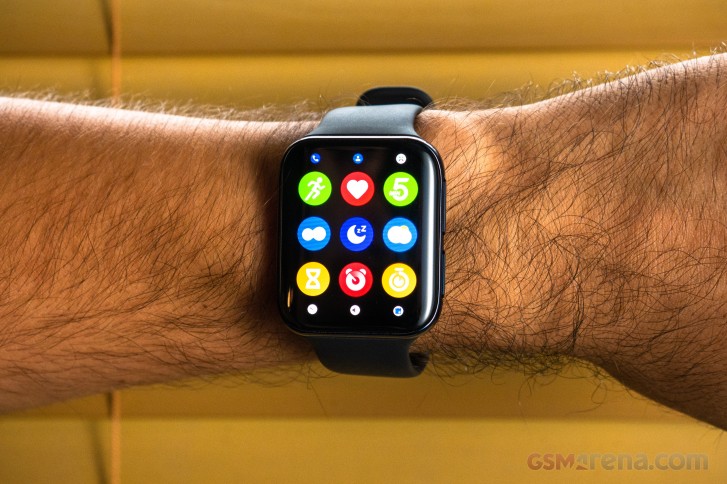 It is also refreshing to see Wear OS in a square form factor in addition to the many round ones we've seen in the past several years. A square watch lets you see much more on the display's contents, and it just feels so different coming from regular use of the Skagen Falster 3 and the TicWatch Pro 4G.
The Watch uses the Hey Tap Health companion app from Oppo. It syncs steps, heart rate, workouts, sleep information, and daily activity with your phone. This is also the go-to app for managing watch faces with photos from your gallery, and creating a watch face to quickly match your outfit.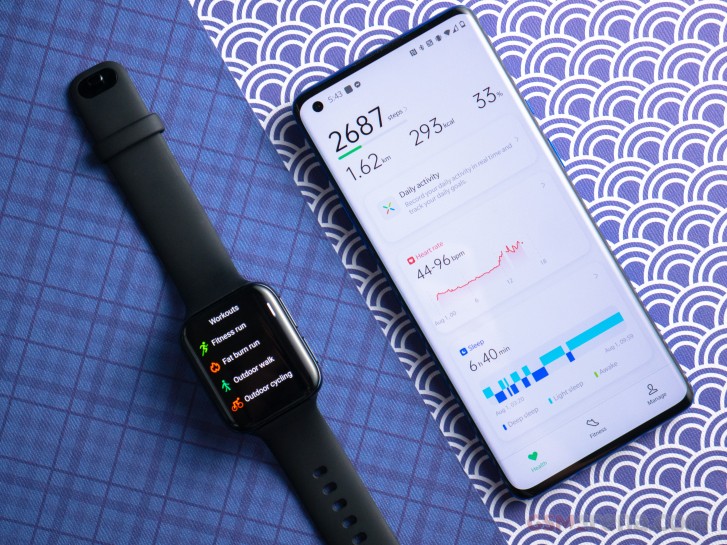 The app is also used to push notifications to the Watch when it's in Power Save mode. This is the secondary OS that the watch uses to go longer on a charge. It can continue tracking heart rate, steps, and send you notifications, like a basic fitness tracker.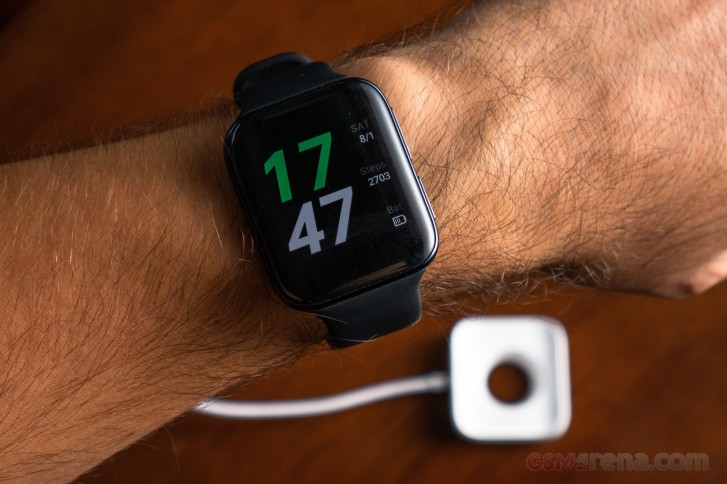 In this mode, the battery is supposed up to 21 days. Booted in the full Wear OS, battery life is only 36 hours, so this is going to be a charge-every-day kind of smartwatch.
The 46mm watch can get a 46% battery charge in just 15 minutes on the charger. The Watch can charge at up to 5V @ 1.5A or 7.5W with a full charge expected in 75 minutes. We've yet to see how battery life and charging behaves in real-life.
First impressions
The Oppo Watch has made me excited for Wear OS. It kind of proves that Wear OS in its purest form isn't enough to compete with other watch platforms. With enough attention to detail in software and an additional app for integrating with health and other features, it might be enough to gain market share in Wear OS devices.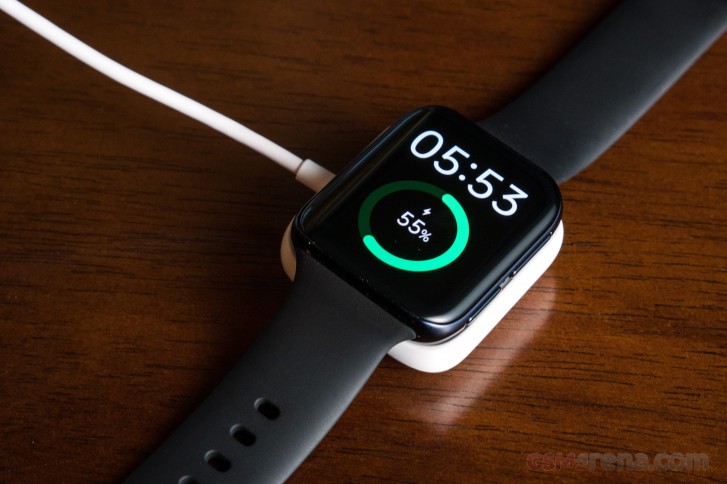 Viewing and replying to notifications on Wear OS are great and using the Oppo Watch is a joy so far. It will have some shortcomings like the battery life and average vibration motor, but it's a start for Oppo's journey in wearables and a new page for Wear OS moving forward. Wear OS still needs work from Google's end, and Qualcomm needs to make a more efficient chipset for smartwatches.
All in all, the Oppo Watch shows a bright future for Wear OS. We hope to see more OEMs try to improve the existing barebones experience of Wear OS. Some OEMs have done a great job of optimizing software and smoothness of the OS already. Google keeps twiddling its thumbs when it mulls about the future of Wear OS, which hasn't seen a major update since 2018. We wonder if that's going to change soon.