CEO Pete Lau posted a video that gives the backstory of the design for the new Always On Display functionality that is coming to OxygenOS 11. OnePlus partnered with the Parsons School of Design to come up with a selection of looks and elements that will adorn the display while the phone sleeps.
The featured design is called "Time", but it's really a timeline. As the day rolls on, the clock will move across the line, leaving markings every time you used the phone. In the evening, you'll see an account of how often and when you used your phone.
Oxygen OS 11 interface will be revamped as well, Lau describes it as "asymmetric design, layout grid," saying it will be "magazine-like". Dark Mode will also be polished with inspiration from Dutch design student Leandroo Li Anzhu. According to him, dark mode should be about more than setting the background to black, instead it should have layers.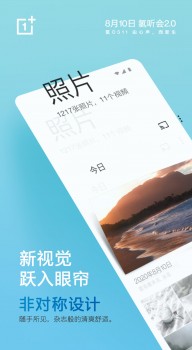 OxygenOS 11 will bring a new user interface design
The new version of the OS (based on Android 11) should be available for all models from the OnePlus 6 and later. However, the company is keeping mum on whether the Always On Display feature will be exclusive to new models or if it will be enabled on some (all?) older devices.