OnePlus is offering a one-day deal to Americans – a free pair of Bullets Wireless Z (normally worth $50) if you pre-order a OnePlus 8 or 8 Pro. The deals is for the US only and is valid until 12pm EDT today.
If you go for the OnePlus 8 Pro you get an additional perk – a free Warp Charge 30 Wireless. That's a $70 bonus right there. Don't miss our hands-on write-up, it lives up to expectations and fills the battery from flat to 50% in half an hour.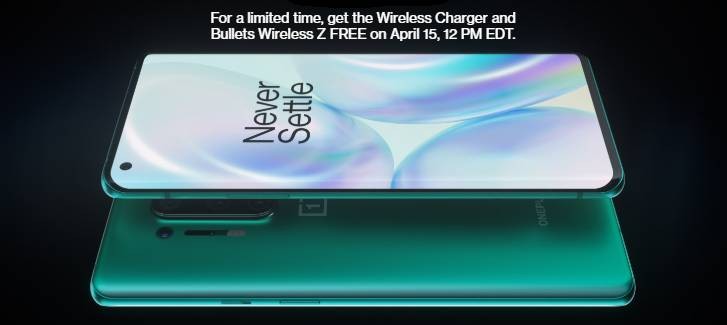 In the UK, France, Italy and other countries if you pre-order a OnePlus 8 Pro you enter a lottery for a chance to win the wireless charger. There's no fine print on the bottom of the page, however, so there's no telling how many units are up for grabs.
The pages in Germany or Spain are worded differently, but it's still a lottery. In either case the non-Pro phone gets no pre-order bonus. It seems that if you really wanted pre-order freebies, you should have gotten the pop-up box, however those sold out in 20 minutes.
Note that OnePlus is selling accessories for the new phones at a discount – just 5% for the Bullets Wireless Z, but up to 20% for bundles that include the headset, a bumper case and an extra wired charger + cable. These discounts are available in all regions.
Don't forget that Google and OnePlus are offering 100GB cloud storage for three months free of charge. Older models (down to the original OnePlus One) can get the 100GB for a month.