When OnePlus unveiled the 8 alongside the 8 Pro, it received an underwhelming welcome (we'll admit we were less than overwhelmed with excitement too), mainly because it looked like a step sideways, compared to the OnePlus 7T. But it's a good, if small, update over that phone and as we welcome it to our review queue we'll go over the reasons why.
First, let's look at the retail package. We received a special media kit, which includes a few optional accessories – a Sandstone Bumper case in lovely Cyan and a Nylon Bumper case in Black.
The retail package, as OnePlus will be shipping it to customers, contains a 30W charger, a beefy USB-C cable and a clear case with the slogan Never Settle etched on the rear.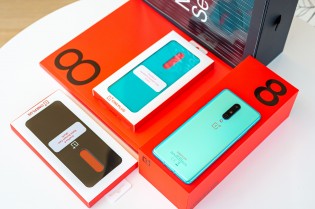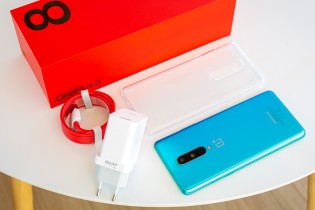 Unboxing the OnePlus 8
So let's look at the OnePlus 8 compared to the OnePlus 8 Pro. The screen on the OnePlus 8 Pro is bigger, higher-res and higher refresh rate, there's official IP68 water resistance, a bigger battery and better cameras – a dedicated telephoto and larger sensors on the other two cameras. The 8 Pro also gains wireless charging. But it also costs €200/$200 putting it side by side with some pretty big names.
The OnePlus 8 still gets a high-refresh rate screen, only it's 90Hz instead of 120Hz, which is still faster than your standard 60Hz panel. It also has good-enough camera hardware with a 48MP main and a dedicated 16MP ultrawide – we'll see how those two fare in our complete review.
Compared to the OnePlus 7T, the OnePlus 8 brings a newer Snapdragon 865 chipset, a bigger battery, a new design, which is way nicer, especially in the Glacial Green color we have here, and an IP68 rating on the Verizon units.
The one complaint we have is the lack of a dedicated telephoto camera – even more so when the OnePlus 7T had one (and a good one, at that). We suspect it will make an appearance alongside 120Hz refresh rate on the fall-bound OnePlus 8T, but as of now it's a glaring omission.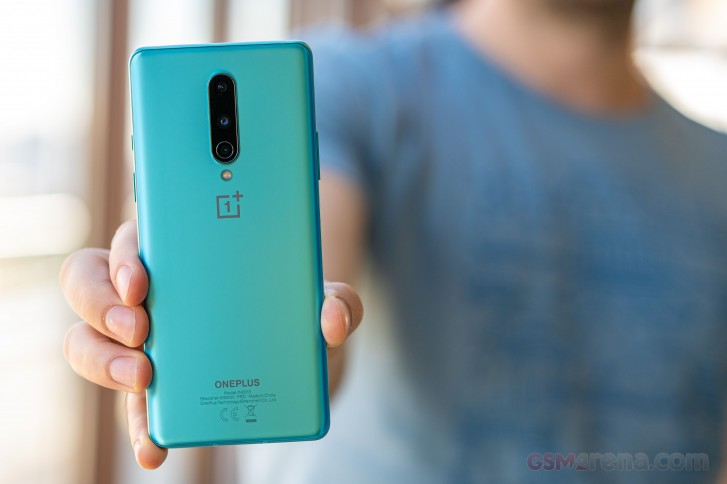 Something you won't appreciate from specs comparisons is just how comfortable the OnePlus 8 feels in the hand. We're also enamored with its new colors – whether you like Interstellar Glow or Glacial Green, the OnePlus 8 is lovely to look at.
It's also a tangibly zippy device, in keeping with its OnePlus DNA. There's a reason why OxygenOS has such a huge loyal following. While deeply customized on the inside, it looks and behaves closest to Google's stock Android than any other OEM skin.
Stay tuned for our full review, where we'll try and find out if the OnePlus 8 is more than a pretty face and if can justify its higher asking price compared to the 7T.