Does your phone turn into a tablet?
Some say all phones kind of look alike these days. Their features might be different, but overall, we're stuck with the glass slab design. The push towards maximizing the feature set has more or less lead to standardizing the smartphone design robbing us of the variety we enjoyed in the past.
But these phones, all of them, have one huge downside that no one talks about – they don't turn into tablets. I'm only half joking there – smartphones have now gotten to a place where their looks and general feature set are commoditized. That's great if you enjoy slow iterative changes year to year, but can also be slightly boring.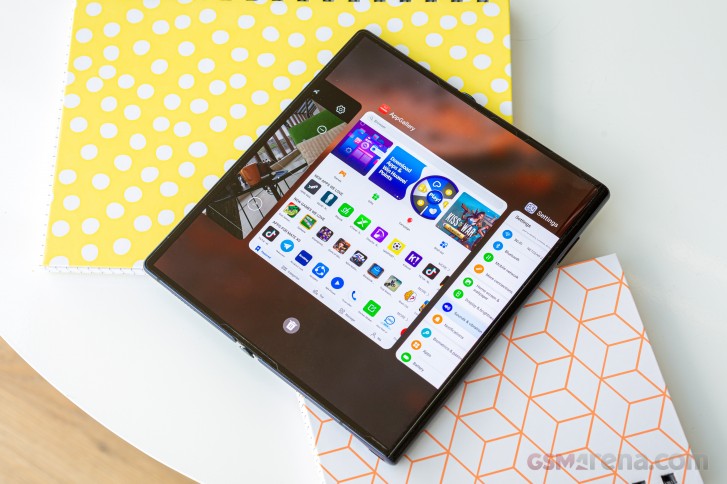 Enter foldables. Because foldable handsets had been rumored to be just around the corner for many, many years I had practically given up on this ever actually becoming a thing, prior to that fateful February of 2019, when both Samsung and Huawei announced the first consumer-ready devices.
Huawei is now on its second-generation foldable with minor improvements compared to the first, and after using the Mate Xs for a few weeks I have to say – it's incredibly hard to go back to any traditional smartphone. It feels like the Mate Xs is just straight up from another world – or from another more advanced time, if you will.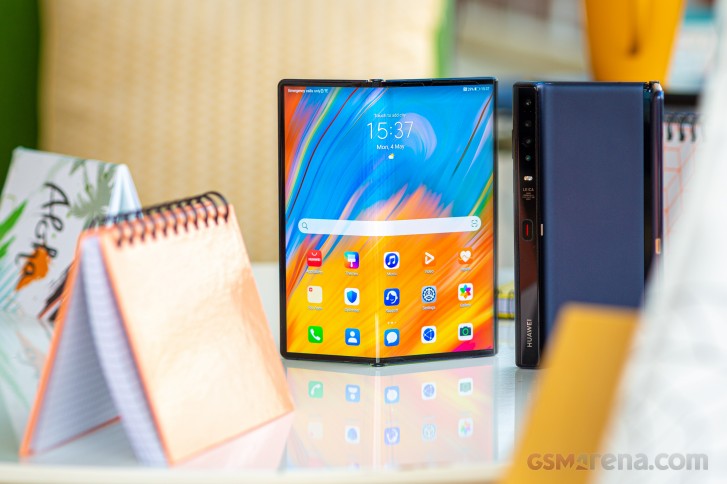 Of course it's not the only foldable that turns into a tablet, the Galaxy Fold also does that, but, in my opinion, the Mate Xs has by far the better design. You can feel that a ton of small details have been carefully considered, whereas the Galaxy Fold seems like it was designed in a time when Samsung did not expect to have any real competition in this space and then was taken by surprise by Huawei's announcement of the Mate X.
The Mate Xs has no awkward side-notch when opened, and it doesn't need a laughably bezel-endowed small and cramped external screen, because the internal screen is also the external one. That's a very smart design, which also means you'll be taking selfies with the main camera array. The cameras fit very nicely the elongated slab of glass on top of the frame, this side of the phone makes it very easy to hold in one hand when in tablet mode, and the bottom fits the USB-C port for charging. The stereo speakers are as far away from each other as possible when the Mate Xs is opened up, and they're 'top' and 'bottom' when you use it like a phone. See, it's the little things – and they do add up.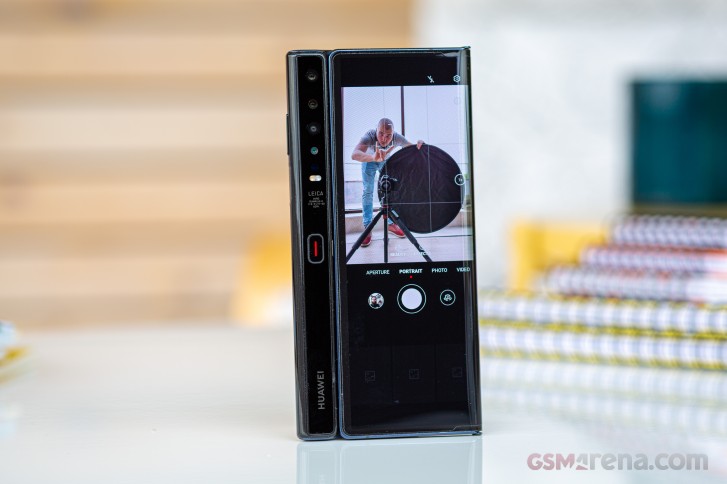 The complaints about this device are obvious: people assume the Mate Xs is more fragile than the Galaxy Fold because of the exposed screen. However, while scratches might be an issue the fact that Mate Xs' screen is plastic, not glass, means that even if you drop it, it won't shatter – you know, like every traditional flagship device out there. I will confess to not having tried intentionally dropping it just to see what would happen, but I also don't see that happening a lot.
When closed, it's hefty but not unwieldy, and because of the 11mm thickness it's actually one of the phones that are easiest to grip securely. The chunkiness was never an issue for me, but the weight… is a lot for the size, when it's closed. I wish it was lighter, then again that problem goes away when you open it up because now the same weight is spread out over far larger surface area.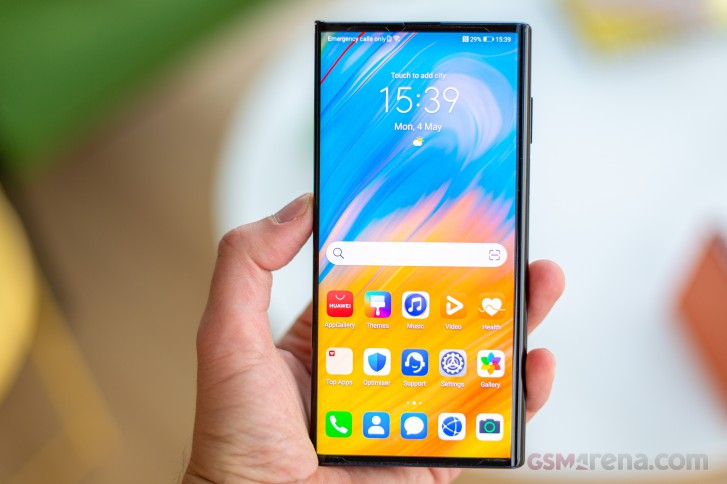 The Mate Xs is definitely not all rainbows and sunshine. Aside from the weight (which isn't that bad), there's also the fact that the screen is mounted sideways (the bottom of the display panel is in the side that houses the power and volume buttons), which means scrolling when you use the phone with the earpiece up is quite janky, because of the way the panel refreshes. You do get used to this eventually, but it did take me over a week.
The issue is gone if, when opened up, you rotate it such that the side with the buttons is the bottom one, and in 'tablet mode' the device works in all possible orientations so that's easy to achieve if you leave auto-rotation on. I usually turn that off the second I set up a new phone, but in this case I left it on and thankfully it wasn't too trigger happy when jumping from one orientation to the next.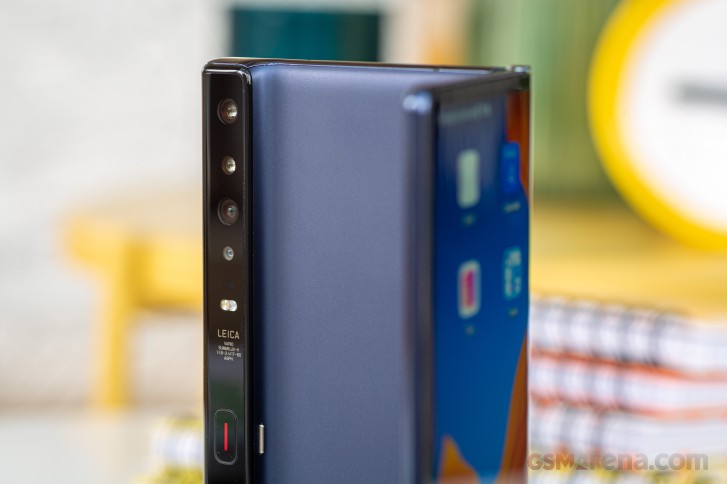 The auto-brightness also needs constant tweaking, at least for my liking, which is weird because the P40 Pro I long-term reviewed here is one of a very small number of phones that required essentially no manual intervention when it comes to brightness. Then there's the fact that, if you hold the Mate Xs closed as a phone, because of where the software is programmed to make the phone screen "end", you get a small curve on the left side, but no such thing on the right side, where the side bezel is actually quite prominent.
On the flip side, as a tablet there are no notches, no hole-punches, just uninterrupted 8-inch goodness, which is great. The crease is there in the middle and you can feel it, but it's rarely actually visible. As for the feeling it part, you get used to it in a few days.
You're not touching glass, though, at any point when using the Mate Xs, but if you've ever used a phone with a pre-installed plastic screen protector you'll know exactly what it feels like. It's not in any way worse than that, and while bare naked glass just feels better to touch, it just doesn't fold. At least not yet.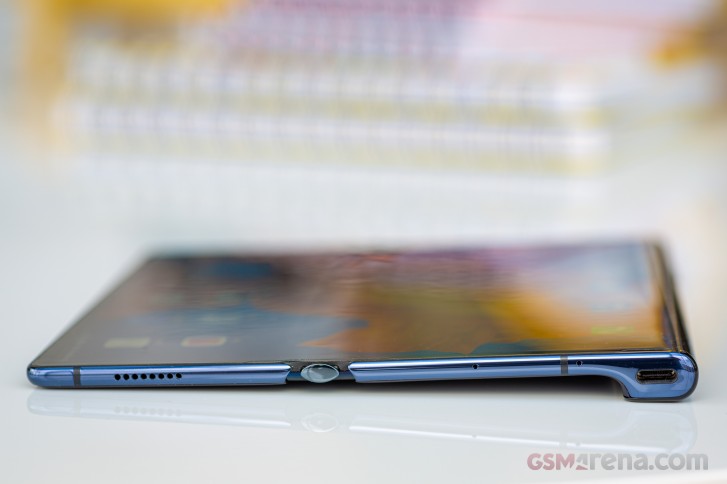 Battery life on the Mate Xs has been surprisingly good, but then again all Huawei and Honor phones have this in common – numbers greater than what the capacity would suggest, compared to the Android competition. I'm going to assume EMUI has something to do with that, as well as Huawei subsidiary HiSilicon's Kirin 990 chipset, which has 5G on the chip and not in a separate modem like the Snapdragon 865.
And then there's the software. First off, as this is (inherently, because of its price) a niche device, it seems to get less update love from Huawei than classic-looking flagships like the P40 series. The Mate Xs is still running EMUI 10, although the P40 handsets launched with EMUI 10.1. The improvements are minor, but this just goes to show that the Mate Xs is more of a hobby product than a main money maker for the Chinese company, and that may be reflected in how fast (or rather, slow) it gets subsequent updates. I hope I'm wrong about this one, because if you're a techie who spends over 2,000 euros on this, you're going to be quite disappointed if it is forgotten in the first wave of the Android 11 rollout.
Speaking of Android, the Mate Xs is devoid of any Google apps and services, which creates a ton of issues, most of which are fixable, but require some patience. Some apps will just not work at all because they depend on the missing Google Mobile Services, and for most apps you'll need to do some hunting in at least two different app stores. The situation is detailed in full in this page of my P40 Pro long-term review, if you're interested.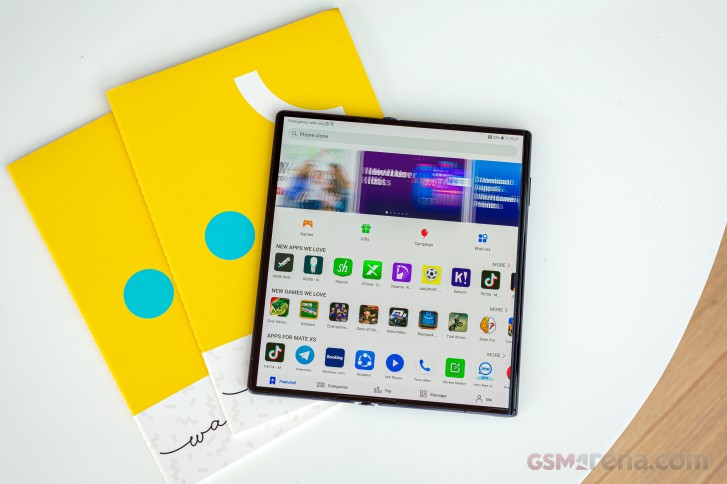 In the meantime, Huawei has released a new app called Petal Search in its App Gallery, which you can use as a meta search engine for apps – it will point you to the specific app store you can grab an app from, or to the app maker's website if you can download it straight from there. It's a kludge, this, but a very necessary one, given the political situation. If you've ever used Huawei's MoreApps for the same purpose, think of Petal Search as a more refined version of that – since it also handles updates, as in, you can see which of your installed apps have new versions available across different app stores and websites.
Clearly then, the Huawei Mate Xs is not perfect. But it is a showcase of where the future of smartphones is headed, and it also doesn't feel like a beta product at all. You are paying a lot of money for it, but the experience is very polished and it feels like Huawei gave some real thought to a lot of things here, including various ways of interacting with the device. It's a mature smartphone (if crippled somewhat by the lack of Google services, although this isn't Huawei's fault), it's a joy to use in day to day life. Oh, and did I mention it also turns into a tablet.
The amazingness of that can't be overstated. Sure, you can buy another flagship smartphone plus an iPad Pro for around the same money, or even less. I've heard that argument before, except it misses the point entirely, because then you end up carrying two different devices with you. And how often are you really going to do that? Yes, an iPad Mini is around the same size as the opened up Mate Xs, and yes, it's cheap. But the convenience of having one product that is both a phone and a tablet is just impossible to replicate.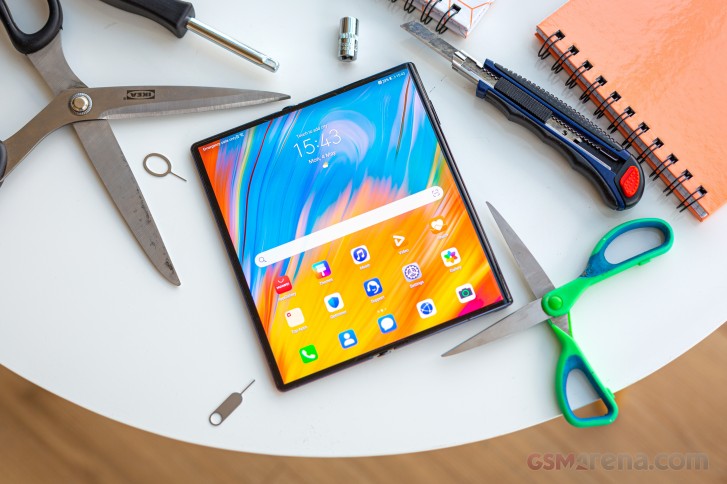 I've been doing the mobile thing for a while now, and I was there when phone cameras were starting to first get adequate for casual shooting, and I've heard a similar argument then. Something along the lines of "but this can't match my DSLR for quality, why would I need a camera in a phone?". In response to that, the phrase "the best camera is the one you have in your pocket" was coined, and I think this can be easily repurposed as "the best tablet is the one you have in your pocket, as your smartphone", or something similar.
Overall my time with the Mate Xs has proven that after years of incremental advances in the smartphone world, we're now standing at the precipice of a huge shift in usability, triggered by the advent of foldable screens. These will only get better with time, as foldable smartphones will become more and more affordable for more and more people. It's a very exciting future that the Mate Xs has revealed for me, and I can't wait for the time when everyone can afford a foldable – be that of the 'phone turns into tablet' variety like the Mate Xs or Galaxy Fold, or the 'phone becomes easily pocketable' option pioneered by the Motorola Razr and the Galaxy Z Flip.
I'm ready for even more craziness to come, as LG is now rumored to bring to market a rollable smartphone early next year. The flexible display panels will hopefully enable a lot of experimentation with form factors, which will be very interesting to see. It's not that we haven't had any experimentation lately, we have – but it was still confined to the glass sandwich slab footprint. From now on, though, the sky seems to be the limit.