The Galaxy Buds+ are the latest and greatest true wireless earphones from Samsung. They keep a pretty much similar design to the IconX and the Galaxy Buds, but it appears that the look might take a sharp turn towards a completely new solution.
Renders of the Galaxy Buds Bean leaked, suggesting the earphone will be shaped like a bean with the speaker looking straight into the ear canal and all the hardware being in the upper side.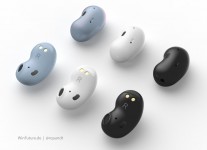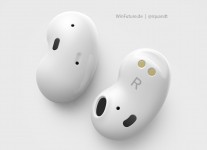 Samsung Galaxy Buds Bean
According to sources, speaking to Roland Quandt, the earphones will be codenamed SM-R180 and will come with two small loudspeakers – one of them providing treble and mid- to low tones. There will also be an outside channel. It should have a trio of microphones, just like the Galaxy Buds+ – two on the outside, picking the direction of the noise and a third one, doing its best to neutralize noise.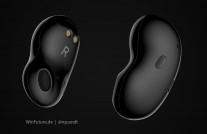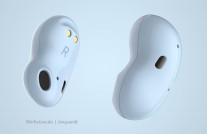 Samsung Galaxy Buds Bean
The headphones are still in development, so battery capacity or full sizes are yet to be determined. Quandt wrote one earphone would be 2.8 cm tall, meaning an even more compact size that would fit in even smaller ears. If the product is ready by the summer, we might see the Galaxy Buds Bean appear with the Galaxy Note20 flagship lineup.