Counterpoint Research posted its analysis of the global smartphone market for Q1 2020, and the numbers do not look good at all. Due to the COVID-19 pandemic, shipments fell 13% on a yearly basis, with the total being under 300 million – a number that was last reported in 2014.
There were only two major companies that did not suffer a yearly decline in shipments – Xiaomi and Realme. All the others saw a decrease, but the overall picture remained the same – Samsung and Huawei are top sellers, Apple is comfortably third, and then plenty of China-based companies are in a battle for the last two spots on the Top 5 roster.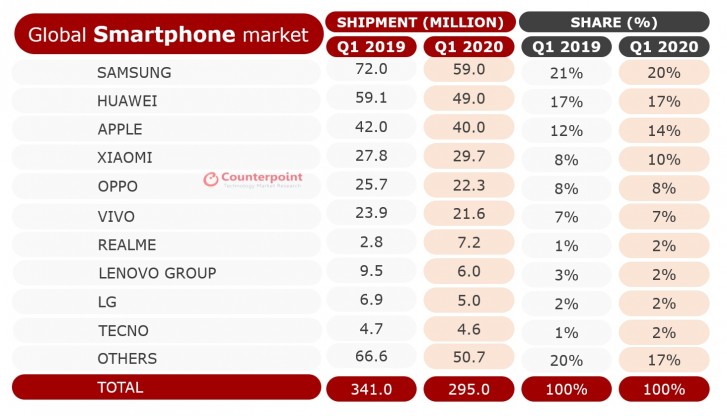 According to Counterpoint, the effect of the pandemic will worsen in Q2 2020, with some markets struggling more than others. The Chinese market is already recovering, so companies that are strong there, like Huawei or Oppo, will see a lesser impact of their sales, compared with Samsung – all major markets of the Korean company are under lockdown.
People with lower income and tendency to purchase devices offline won't be able to match the consumer behavior from before the pandemic, so the entry-level segment will be hit the most in emerging economies. The midrange segment will keep driving volumes, while the premium segment is least likely to be directly affected – sales are expected to rebound once all this situation is over.