Apple kept the iPhone XR around as a lower cost alternative to the iPhone 11, knocking its price down to $600 – a sweet $150 discount from the original price and $100 less than the 11. However, it took until now for Apple to officially start selling refurbished XR units.
A refurbished iPhone XR with 64GB storage will cost you $500. Then it's $540 for the 128GB model and $630 for the 256GB one (all of them unlocked). The color selection is limited by the storage you're looking for.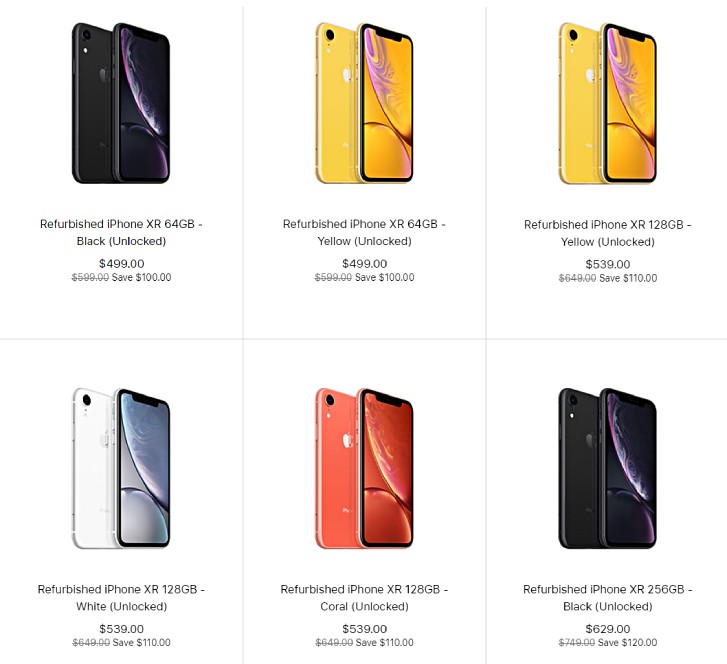 Of course, things have changed since the iPhone 11 trio was unveiled – the iPhone SE (2020) was released at $400 for the 64GB option. Does a refurbished XR even make sense?
Well, for $100 more you're getting a much larger screen – 6.1" vs. 4.7", which works out to 50% more surface area. The older phone also has FaceID hardware and much thinner bezels. For comparison, the new SE has a design from 2014 with chunky top and bottom bezels.
Even so, the iPhone XR is the bigger phone (a negative in the eyes of SE fans), but that also means a larger battery. As a result, it scored a 78h Endurance rating in our test, compared to 59h for the SE.
The XR also comes with a chipset that's a year older, but seeing how it was the fastest mobile chip of its day, it will be fine for a while longer. The single 12MP camera on the back of the phone seems identical to what the SE is packing.
You can find the refurbished iPhone XR deals on Apple.com (in the US only).