[ad_1]

Asia In Brief Senior execs from Alibaba Cloud were summoned to discuss the data leak that saw information pertaining to a billion Chinese citizens sold on the dark web, according to Nikkei and The Wall Street Journal.
The leak is thought to have come from a misconfigured Alibaba Cloud server that did not require a password to access the trove, which exposed names, home addresses, ID numbers, phone numbers, and criminal records.
Cyber security researchers have also alleged the digital certificates had expired – perhaps four years previously.
Since the discovery of the leak, Alibaba engineers have reportedly been ordered to review database architectures it offers in its cloud, and to check configurations used by other clients.
The Shanghai Police leak is believed to be the biggest data breach ever.
Weibo to crack down on misspelled words and homophones
Chinese microblogging website Weibo announced last week it would crack down on users who deliberately misspell words or post using homophones or complex puns that appear innocuous but have political undertones.
"In order to create a clear and bright cyberspace, and to maintain a civilized and healthy social ecosystem, we will launch a focused regulation on the illegal behavior of using of homophone characters, variants of words, and other 'misspelled words' to spread harmful information," said Weibo, as translated from Chinese by media outlet What's On Weibo.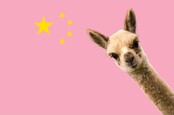 Chinese AI censors live-streamed Alpacas – beasts with a very NSFW and political back story
Weibo has promised to increase its efforts to identify and remove suspicious keywords, and establish a positive incentive for users not to engage in using the terms.
The platform also encouraged its users to report content that uses homophones or other defiantly political terminology.
Crypto biz Vauld requests six-month restructuring moratorium
Singapore-based crypto lending company Vauld has sought a six-month moratorium on being wound up.
The company has disclosed an overall shortfall of around $70 million last Monday, according to crypto-centric news outlet Block.
Estimated assets were listed at around $330 million, and liabilities landed at around $400 million. The math on that isn't hard.
London-based crypto platform Nexo has formally expressed interest in acquiring Vauld.
Vauld suspended both trade and withdrawals on July 4, while seeking new investors amid "financial challenges" – namely, a rush of withdrawals reaching almost $200 million sparked by "volatile market conditions."
On July 11, the same day as the shortfall was disclosed, Vauld parent company Defi Payments filed for a six-month time out to restructure the company.
"This is so as to give Defi Payments and the Vauld management the breathing space it requires to prepare for the intended restructuring for the benefit of all stakeholders," said Vauld in a statement. "At this time, the Vauld Group continues to have discussions with Nexo Inc whilst Nexo Inc carries out is due diligence, and also explore potential restructuring options that would best protect the interests of the Vauld Group's stakeholders."
ASEAN launches cross-border e-commerce complaint resolution service
The ASEAN trade bloc has launched an Online Consumer Complaint Function to facilitate cross-border complaints about e-commerce transactions gone bad.
The organization was established in recognition that ASEAN's six hundred million residents are increasingly likely to shop from stores across the ten-nation bloc, and therefore need a means to resolve complaints outside their jurisdiction.
Complaints filed through the project's website can be made by individual consumers, collectively or by representation of a consumer organization/association. Resolution within 30 working days is the target.
The Function is an early step towards the goal of realizing an Online Dispute Resolution Network across the bloc by 2025. – Simon Sharwood
Philippines central bank debunks Facebook rumor that the folding stuff is no good when folded
The Philippines central bank, Bangko Sentral ng Pilipinas (BSP), has issued advice that banknotes remain legal tender even if folded.
The nation recently introduced a 1000-peso ($17) polymer banknote. For reasons that are not entirely clear, a Facebook post claimed citizens could not pay with the note after it had been folded. Sigh.
The post went viral and some establishments stopped accepting the notes – proving once more that Facebook is making the world a better place, one nugget of ridiculous disinformation at a time.
The Bank's statement "informs the public that folded banknotes, whether paper or polymer, can still be circulated and accepted for payment. As such, retailers and banks should accept them for day-to-day payment transactions."
"Recently, the BSP issued guidelines on the proper handling of polymer banknotes. This includes storing banknotes in wallets where they fit properly (the typical bi fold wallet fits this criteria), keeping them clean, and using them as payment for goods and services," the advice adds, before concluding with a reminder that any bank branch can help to authenticate a banknote. – Simon Sharwood ®
[ad_2]

Source link